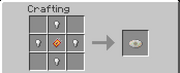 A Storage Disc is a device used by many of the machines in Jurassicraft, primarily for holding genetic information obtained from fossils.
It is used by the DNA Extractor and DNA Sequencer, the DNA Combinator-Hybridizer, and the DNA Synthesizer.
The Storage Disc is crafted using four Iron Nuggets and a Basic Circuit.